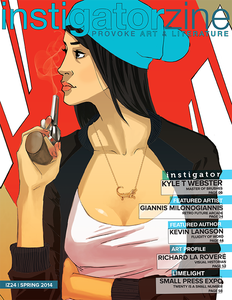 $

6.99
This 24th issue of Instigatorzine features a gang of crime and mystery stories. Sort of. There's also neat interviews with Kyle T. Webster, Giannis Milonogiannis, the Small Press Expo, and local Jersey City artist Richard La Rovere!
INSTIGATOR
Kyle T. Webster
FEATURED ARTIST
Giannis Milonogiannis
FEATURED AUTHOR
Kevin Langson
ART PROFILE
Richard La Rovere
CONTENTS
Anna Voisard, Kateland Harris, Larysaa Wirstiuk, Joe Del Priore, John J. Ronan, Jon Shifrin, Scott Whitney, Annee Schwank, Dennis Neil
LIMELIGHT
20 Years of Small Press Expo
COVER: Madelyne Dela Rama
CONTRIBUTING ARTISTS:
Daniel Fishel, Kyle Stecker, Jacob Sanders, Lily Padula, Margaret E.I.
GUEST ART EDITOR
*~REBEKKA DUNLAP~*
EDITORS IN CHIEF:
Narciso Espiritu & Keith Chiappone
MANAGING EDITOR
Elias Shamir
PROJECT MANAGER
Amanda Levie
SENIOR EDITOR
Jenna Kildosher
CREATIVE DIRECTOR
Narciso Espiritu
FICTION/POETRY EDITOR
Jenna Kildosher
NONFICTION EDITOR
Keith Chiappone
THEATRE ARTS EDITOR
Ruben Carbajal
ASSISTANT EDITOR
Meg Merriet
ARTS EDITOR
Carlos Castillo